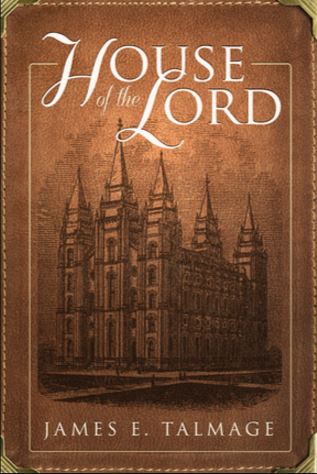 The House of the Lord
By James E. Talmage
Synopsis: A book that discusses the doctrine and purpose of temples throughout time, with special emphasis on latter-day temples (up to the time of the book's publishing in 1912). It was commissioned by the First Presidency to counter ransom demands of unscrupulous individuals who had managed to sneak into the Salt Lake Temple and take photographs. James E. Talmage suggested that the Church publish its own pictures of the temple to thwart the ransom attempt. This book was the result. It is a classic in LDS literature.
Strong Points: The book is written by one of the greatest intellectual minds ever to exist in the hierarchy of the Church, James E. Talmage. As such, its prose is masterfully done, and its explanation of the temple doctrine and rituals provides an excellent foundation of understanding.
Weak Points: The pictures of the temple were not placed alongside the main text, but appeared at the back of the book. As such, if someone wanted to follow the descriptions of the author with an illustration, they were obliged to turn to the back of the book and look up the picture. Long and tedious architectural descriptions of temple structures abounded throughout the book. So also did long and tedious dedicatory prayers, which could have been summarized. The ancient temples of Israel were discussed and described at great length but the book contained no visual diagram of them whatsoever. Especially without a readily available photograph next to the pertinent text, such mundane descriptions became very taxing to trudge through. Unfortunately, it was descriptions such as this that made up probably the bulk of the book. It is a classic, and it has some great things in it, but is not the best work for exploring the doctrine of the temple.
Interesting: 2/5
Must Read: 3.5/5
Overall: 3/5
Selected Quote: "This [D&C 124:28-41] then is sufficient answer to the question as to why the Latter-day Saints build and maintain temples. They have been instructed and required so to do by the Lord of Hosts. They have learned that many essential ordinances of the Church are acceptable only when performed in temples specially erected and reserved for the purpose. They know that within these precincts of sanctity the Lord has revealed many great and important things pertaining to the Kingdom of God; and that He has promised to reveal yet more to man in houses sacred to His name. They have learned that a great part of the mission and ministry of the restored Church is the administration of vicarious ordinances in behalf of the unnumbered dead who never heard the tidings of the Gospel, and that for such sacred and saving service Temples are a necessity." (p. 88).