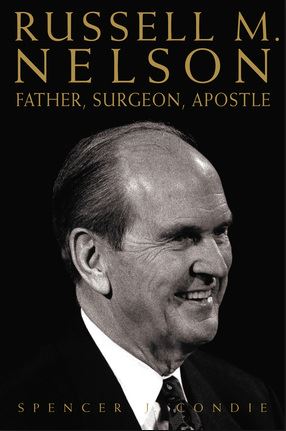 Russell M. Nelson: Father, Surgeon, Apostle
By Spencer J. Condie
Synopsis: This book is an authorized biography of Russell M. Nelson, from the beginning of his life up until 2003 when the book was printed.
Strong Points: This is a well-written biography, and Spencer J. Condie does a very good job of providing a window into the life and soul of Russell M. Nelson. Plenty of interesting anecdotes appear in the book, such as Russell's inactivity in Church during his younger years, heart-warming stories from his home life, his struggles during the pioneering years of open heart surgery and his personal contributions to that field and the building of the heart-lung machine. Many surprises like the amount of languages President Nelson can speak, impress the reader with the incredible caliber of this man. Few men can match his quality of character or the power of his intellect, and when these qualities are combined it makes for a very rare human being, indeed. This book brings a great appreciation for President Nelson to the reader, and in hindsight, one can see very clearly how he was being prepared to become the seventeenth President of the Church.
Weak Points: Due to the time this biography was written – in the middle of the Gordon B. Hinckley presidency – it is missing a lot of more current information. For instance, Elder Nelson's wife Dantzel died, and he remarried. Elder Nelson became President Nelson during the presidency of Thomas S. Monson, and then finally President of the Church himself. A sequel to the book is necessary.
Interesting: 4/5
Must Read: 4.5/5
Overall: 4/5
Pages: 479
Selected Quotes: "Russell became well acquainted with two professional colleagues at the Walter Reed Army Medical Center, Dr. Derwin Ashcraft and his wife, Beverly. One day, they asked Dr. Nelson about his religious beliefs, so he gave them a preliminary overview and loaned them his copy of the Book of Mormon. About a week later, they returned the book to him, saying, 'Thanks a lot.'
"Rather assertively, Russell asked, 'What do you mean, 'Thanks a lot'? That is a totally inappropriate response for one who has read this book. You didn't read the book. Please take it back and read it; and then when you have read it, please return it to me.'
"Somewhat red-faced and embarrassed by this challenge and confrontation, the Ashcrafts retrieved the book, acknowledging that they had only thumbed through the pages. Three weeks later, they returned with tears in their eyes and said, 'We have read the book. We know it is true. We want to learn more.' Dr. Nelson said, 'Now I know you've read the book.'" (p. 118).
"Shortly after being called to the Seventy, Elder D. Todd Christofferson accompanied Elder Nelson on a stake conference assignment to Mexico. After the conference, Elder Christofferson said, 'Elder Nelson, if at any time I need correction, please feel free to give it to me.' Elder Nelson responded, 'I will; that's one of the ways we show our love for one another.'" (p. 373).