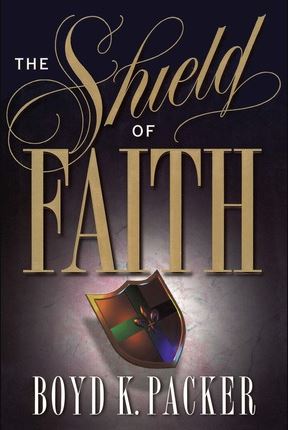 The Shield of Faith
By Boyd K. Packer
Synopsis: Published in 1998, this book contains a collection of some of Boyd K. Packer's Conference Talks, as well as a few Ensign articles and such things. It is segregated into 5 short parts: Family, Priesthood, Learning, Agency, and Holiness. Each part has three to five talks contained in it.
Strong Points: This book is a nice collection of talks from an insightful apostle. It starts out powerfully, with a gripping talk about the threats to the family. The book contains a pleasant mix of preaching and anecdotes. It also demonstrates President Packer's adeptness at using the scriptures to teach. It is an inspiring read, containing some elements of President Packer's zeal and uncompromising nature, his stern orthodoxy that we loved so well, and his prudish character, all of which combined to make him a staunch, dependable, and steady beacon.
Weak Points: I was somewhat disappointed to find that the book was merely a compilation of Conference talks available elsewhere, and not an original work on the subject of faith. I was hoping for an original, intentional and structured discourse on the topic of faith, rather than a compilation of various talks.
Interesting: 3/5
Must Read: 3/5
Overall: 3/5
Pages: 198
Selected Quote: "This crisis of the family is no surprise to the Church. We have certainly known what was coming. I know of no better testimony that we are led by prophets than our preparation for this present emergency.
"The scriptures speak of prophets as "watch[men] upon the tower" who see "the enemy while he [is] yet afar off" and who have "beheld also things which were not visible to the natural eye … [for] a seer hath the Lord raised up unto his people."
***
"We can only imagine where we would be if we were just now reacting to this terrible redefinition of the family. But that is not the case. We are not casting frantically about trying to decide what to do. We know what to do and what to teach." (p. 4-5).