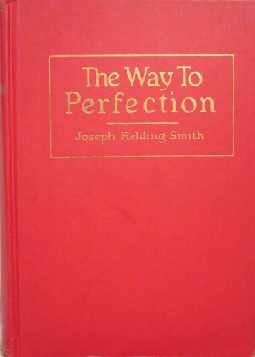 The Way to Perfection
By Joseph Fielding Smith
Synopsis: This book was written in 1931 as an overview of doctrine relating to salvation for the Genealogical Society of Utah. It has since become a classic in LDS literature. The book gives a tour of the plan of salvation, from the Grand Council before the world was, to the celestialized earth, and touches on many Gospel topics relative to the operation of the Gospel plan: the lineage of the priesthood, the Twelve Tribes and the mission of Ephraim, the mission of Elijah, and many other things.
Strong Points: This is a really good book. It has interesting treatments of the subject matter in each chapter. It is also a smooth and easy read, as it is broken up into short, concise chapters, and the reader never feels bogged down in any particular topic. Many interesting thoughts, ideas and topics are broached throughout the book, including whether we chose our families in the pre-existence (answer: generally no), and many others. Uplifting and persuasive chapters about the eternity of the marriage covenant and family, the agency of man, the law of consecration, etc. provide valuable insights and doctrinal justification for such principles. Not to mention, that the treatments of the topics throughout the book were done by none other than Joseph Fielding Smith - the great scriptorian and Gospel scholar. I found reading this book to be an enjoyable, fulfilling, and sanctifying experience.
Weak Points: I didn't like that many scriptures were quoted without giving any reference or citation. What might bother many, however, is the book's discussion about the seed of Cain (blacks), and its rationale for why the blacks were denied the priesthood - that they were not valiant in the pre-existence. This view in recent times has been formerly repudiated by the Church. However, we must recognize that this view was universal within the Church at the time this book was written. Also, I found that Joseph Fielding Smith was actually highly gracious and positive with reference to the destiny of the blacks, quoting prophecy that blacks would one day hold the priesthood and all its blessings, and making hopeful remarks that the Lord would recognize their diligence and goodness. While he did refer to blacks as an "inferior race" in the book, as a result of the curse of Cain, I think we can interpret that as "disadvantaged race" because they could not have the blessings of the priesthood.
Interesting: 4/5
Must Read: 3.6/5
Overall: 4.2/5