The Easter Story
By Loyal to the Word
The Easter story is the greatest story ever told. It is a true story. It represents the most far-reaching subject matter ever to affect the human heart; its consequences are always relevant; it changes everything. The Easter Story is split up into two parts: The Atonement and The Resurrection, and shall thus be treated in this article. These two components make up the miraculous victory of loving Deity over sin and death, respectively.
PART I: The Atonement
What is the Atonement?
The Atonement is the great reconciliation between God and Man. It has its roots in the Garden of Eden, when Adam partook of the forbidden fruit. At that point, man fell into a sinful state and became estranged from God. Without help, mankind was hopelessly doomed. Yet, through the love and mercy of God, a way was provided by which the rift between God and man could be healed, and a reconciliation effected. This was the Atonement of Jesus Christ.
"And not only so, but we also joy in God through our Lord Jesus Christ, by whom we have now received the atonement. Wherefore, as by one man sin entered into the world, and death by sin; and so death passed upon all men, for that all have sinned"

(Rom. 5:11-12).
"For God so loved the world, that he gave his only begotten Son, that whosoever believeth in him should not perish, but have everlasting life."

(John 3:16).
The Atonement had to be physical, however. It had to incorporate actual punishment, as "the wages of sin is death" (Rom. 6:23), and the law had been broken, "For all have sinned, and come short of the glory of God" (Rom. 3:23). It could not merely be a forgiveness of wrongdoing due to the benevolence of Deity. To do such would be to ignore the claim that justice has upon the universe. And in order to be perfect, God must be perfectly just as well as merciful. God's eternal sense of justice had to be satisfied. Were it to be ignored, then this would have rendered God imperfect, and therefore incapable of effecting salvation at all, and not even meritting worship, for as the Book of Mormon explains: "except it were for these conditions [of requiring repentance], mercy could not take effect except it should destroy the work of justice. Now the work of justice could not be destroyed; if so, God would cease to be God" (Alma 42:13, emphasis added). The Book of Mormon explains how the Atonement preserves God's divine sense of justice and enables a plan which can save the children of God:
"And thus we see that all mankind were fallen, and they were in the grasp of justice; yea, the justice of God, which consigned them forever to be cut off from his presence. And now, the plan of mercy could not be brought about except an atonement should be made; therefore God himself atoneth for the sins of the world, to bring about the plan of mercy, to appease the demands of justice, that God might be a perfect, just God, and a merciful God also."

(Alma 42:14-15).
The Necessity of the Atonement
The Atonement was absolutely necessary. The scriptures tell us,
"For it is expedient that an atonement should be made; for according to the great plan of the Eternal God there must be an atonement made, or else all mankind must unavoidably perish; yea, all are hardened; yea, all are fallen and are lost, and must perish except it be through the atonement which it is expedient should be made."

(Alma 34:9).
Conditions for Making the Atonement Effective
There are, however, strict conditions which make the Atonement effective for us; it is not automatic. We must abide its terms. Again, the scriptures say,
"Therefore, according to justice, the plan of redemption could not be brought about, only on conditions of repentance of men in this probationary state, yea, this preparatory state; for except it were for these conditions, mercy could not take effect except it should destroy the work of justice. Now the work of justice could not be destroyed; if so, God would cease to be God."

(Alma 42:13).
Jesus and His Disciples Keep the Passover Meal
It is fair to say that the Easter Story begins with the Passover meal. It was on Thursday in the final week of the life of Christ, and Jesus and his disciples were in the vicinity of Jerusalem. Peter and John were sent to make preparations for the Passover meal and were accommodated in a miraculous manner in a large upper room (Matt. 26:18-19; Mark 14:12-16; Luke 22:7-13). The Passover meal, also called the Feast of Unleavened Bread, commemorated the angel of death passing over the houses of Israelites during the tenth plague of Egypt, as well as the general escape from Egypt (LDS Bible Dictionary, 1979, p. 672), and signified redemption, deliverance, or salvation. It had been instituted from the days of Moses, when the children of Israel were still in bondage. At the first Passover, the blood of male lambs without blemish was sprinkled on the sides and over the tops of the doors of Israelite homes (Ex. 12:3-7), and the lamb was eaten along with unleavened bread in a sacred meal that evening (Ex. 12:8). At the same time, the Lord would "pass through the land of Egypt," and "smite all the firstborn in the land of Egypt" except for those houses bearing the token of blood (Ex. 12:12-13). The symbolism is clear: The Savior, who is the Lamb of God, would cover his people Israel with his blood, and save them from destruction. The Passover meal, therefore, is a most fitting setting for the Atonement of Jesus Christ.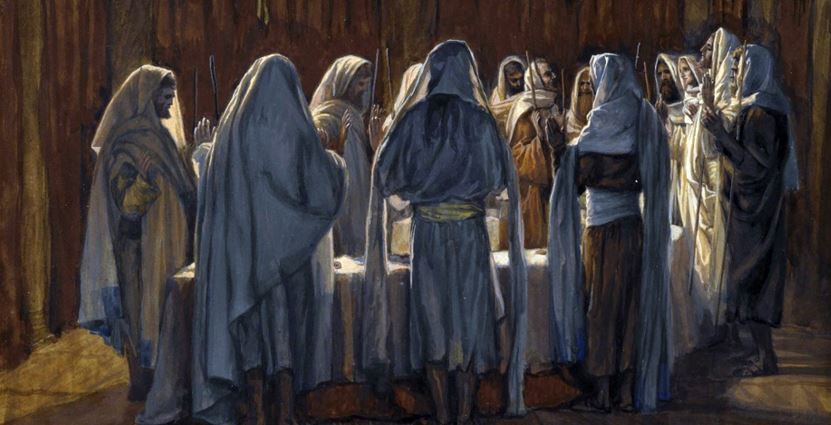 The Ordinance of Washing of Feet
At some point during the meal, Jesus abruptly rose from the table, "laid aside his garments; and took a towel, and girded himself" (John 13:4). He then poured water into a basin and proceeded to wash the disciples feet with the aid of the towel (John 13:5). When he approached humble Peter, this disciple protested, saying, "Lord, dost thou wash my feet?" (John 13:6). It seemed incredible to Peter that his Master would perform this demeaning and subordinate service for him. "What I do thou knowest not now; but thou shalt know hereafter," Jesus said (John 13:7). "Thou shalt never wash my feet," Peter protested again (John 13:8).
Then Jesus revealed in a subtle way how this ordinance was symbolic of the service he would perform for all mankind in the impending Atonement: "If I wash thee not, thou hast no part with me" (John 13:8). Jesus was teaching that we must allow him to perform his act of service, the nature of which seems degrading, undignified, and totally incongruent with Jesus' majesty and high station. But if received, it will have the effect of cleansing us. Upon hearing Jesus' remark, but probably not yet totally understanding the significance of the teaching, humble Peter acquiesced: "Lord, not my feet only, but also my hands and my head" (John 13:9). Probably amused, Jesus responded that that was not necessary, but only the washing of feet was sufficient. "…and ye are clean, but not all," he said, making reference to Judas his betrayer (John 13:10). Jesus then took up his garments again, sat down, and explained that the disciples ought to likewise serve (John 13:17).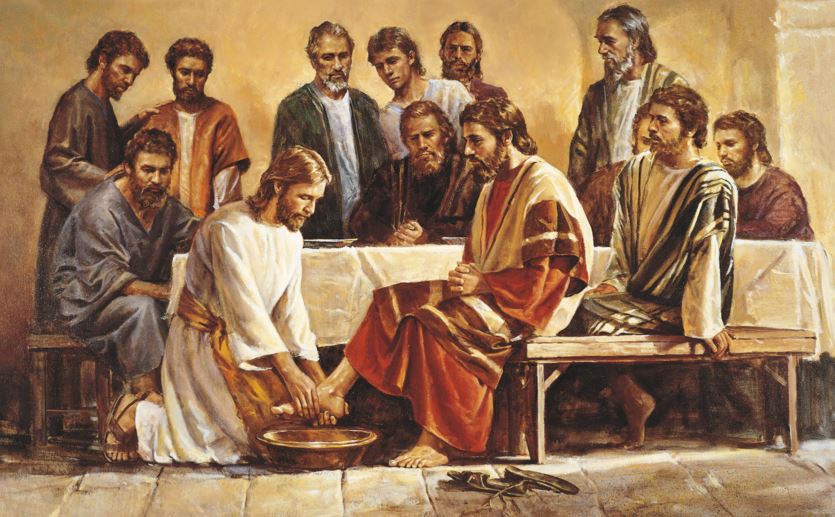 Judas, the Betrayer
Jesus resumed his meal then quoted Psalm 41:9 and said, "I speak not of you all: I know whom I have chosen: but that the scripture may be fulfilled, He that eateth bread with me hath lifted up his heel against me" (John 13:18). He was making reference to his betrayer. He then declared that he was telling them this thing beforehand so that when the time came the disciples would understand that he had foreseen it, and was indeed the Son of God (John 13:19). Jesus then certified that those who receive him will receive his Father as well (John 13:20).
In no doubt a saddened, grief-stricken expression, Jesus announced "Verily I say unto you, that one of you shall betray me" (Matt 26:21). These were his friends (John 15:15), and yet one had already previously planned his betrayal for a mere 30 pieces of silver (Matt. 26:14-16), which was the price of a slave (Ex. 21:32).
The reaction was immediate and stirring. "And they were exceeding sorrowful, and began every one of them to say unto him, Lord, is it I?" (Matt. 26:22). John, who was "was leaning on Jesus' bosom" (John 13:23) was urged by Peter to ask the Master again (John 13:24). John, still "lying on Jesus' breast" then asked, "Lord, who is it?" (John 13:25). Jesus "answered and said unto them, It is one of the twelve, that dippeth with me in the dish" (Mark 14:20).
Jesus then acknowledged the inevitability of his sacrificial death, but in an acknowledgement of the principle of free agency, he took occasion to detail the punishment of his betrayer, in words which are reminiscent of the punishment reserved for sons of perdition (see D&C 76:32):
"The Son of man indeed goeth, as it is written of him: but woe to that man by whom the Son of man is betrayed! good were it for that man if he had never been born."

(Mark 14:21; see also Matt. 26:24 & Luke 22:22).
He then further exposed the identity of his betrayer, "He it is, to whom I shall give a sop, when I have dipped it. And when he had dipped the sop, he gave it to Judas Iscariot" (John 13:26). In what no doubt would have been an insincere manner, Judas Iscariot asked, "Master, is it I?" and Jesus replied in the affirmative, "Thou hast said" (Matt. 26:25). The scriptures then recount a demonic possession that occurred, for "after the sop Satan entered into [Judas Iscariot]" (John 13:27; see also Luke 22:3). With a palpable measure of disgust, Jesus added, "That thou doest, do quickly" (John 13:27).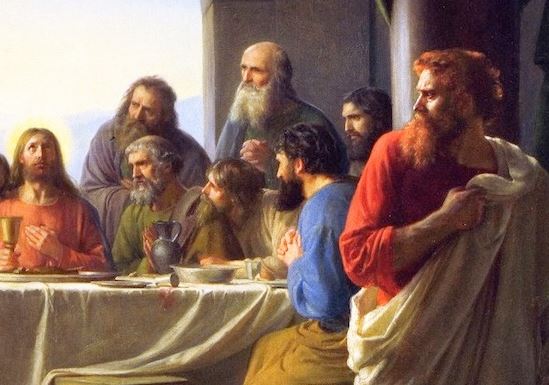 Judas Iscariot immediately escaped into the night (John 13:30). Despite all this, the full gravity of the exchange that just took place went unperceived by the other disciples, as they presumed that Judas was actually being sent out to buy provisions for the feast (John 13:28-29).
Later on, after the arrest of Jesus, Judas would feel a crushing sense of remorse and attempt to undo his evil deed, even returning the thirty pieces of silver to the chief priests (Matt. 27:3). "I have sinned in that I have betrayed the innocent blood" he would plead (Matt. 27:4). He was met with a callous response: "What is that to us? see thou to that" (Matt. 27:4). It was too late to change anything. In desperation and defeat, Judas "cast down the pieces of silver in the temple" and went and hanged himself on a tree, which then broke and punctured his abdomen from the fall, and "his bowels gushed out" (JST Matt. 27:5; Acts 1:18).
The Institution of the Sacrament
After Judas was gone, the Lord Jesus instituted for the first time the sacrament of the Lord's Supper. He said to them, "With desire I have desired to eat this passover with you before I suffer: For I say unto you, I will not any more eat thereof, until it be fulfilled in the kingdom of God" (Luke 22:15-16). This Passover was destined to be Jesus' last meal as a mortal. Jesus then administered the emblems of the sacrament and explained them:
"Jesus took bread, and blessed it, and brake it, and gave it to the disciples, and said, Take, eat; this is my body. And he took the cup, and gave thanks, and gave it to them, saying, Drink ye all of it; For this is my blood of the new testament, which is shed for many for the remission of sins."

(Matthew 26:26-28).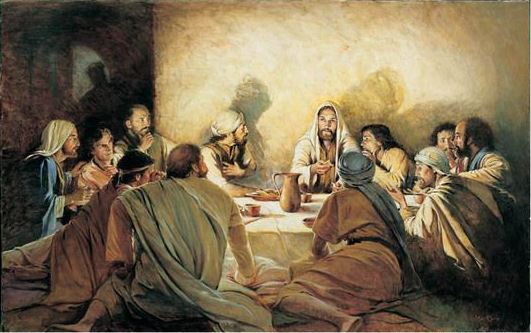 Divine Teachings
Jesus then used the remainder of the evening to dispense divine teachings to his disciples. He taught them to follow his example (John 13:13-17); he gave them a commandment to love one another (John 13:31-35); he proclaimed himself as the way, the truth, and the life, and the only way to the Father (John 14:6); he offered comfort to his disciples and promised another Comforter, which is the Holy Ghost (John 14:1-31); he discoursed on love (John 15:9-17); he assured the apostles that he had chosen them by divine means, and also that they could expect the world to hate them, but that the Comforter would bear witness (John 15:16-27); he discoursed further on the mission of the Holy Ghost (John 16:7-14); alluded further to his death and resurrection (John 16:16-25); proclaimed that he was the Son of God and that he had overcome the world (John 16:27-33).
The meeting was also marred, however, by disputes among the disciples about "which of them should be accounted the greatest" (Luke 22:24). Jesus took the occasion to teach them that he who was truly great did not lord himself over others, but was a servant to them (Luke 22:26), and he reminded them that he was among them as "he that serveth" (Luke 22:27).
The Intercessory Prayer
While yet together at the table with the apostles, Jesus offered the great Intercessory Prayer. In it he acknowledged that the time for the Atonement was at hand (John 17:1-2); that eternal life was found by knowing God and his Son (John 17:3); he then prayed for the unity and welfare of his apostles (John 17:6-26).
To the Mount of Olives
After the Intercessory Prayer and the singing of a hymn, Jesus and the apostles retired to a garden "over the brook Cedron" on the Mount of Olives (John 18:1; Matt. 26:30) directly to the east of the city, not far at all from the temple, which would have been in clear view.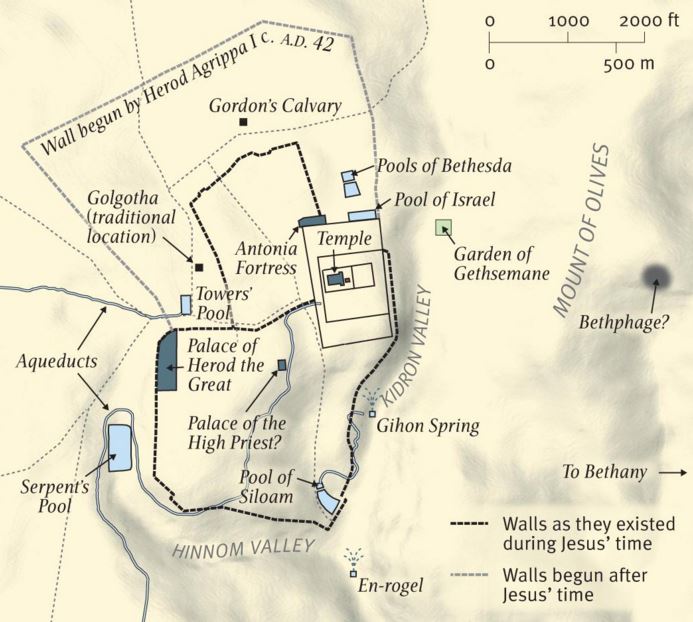 It was during or near the time of this walk that Jesus acknowledged his struggle against the desires of the flesh: "Ye are they which have continued with me in my temptations," he told his disciples (Luke 22:28). He then appointed them positions of authority in God's heavenly kingdom, to be set up as judges to the twelve tribes of Israel (Luke 22:30). And who better for such a position, as these disciples would later give their lives in teaching God's message to the Israelites remaining in their day, and would then be fully qualified to speak as to their integrity or lack thereof.
Jesus then took occasion to especially warn his friend, Peter. "Simon, Simon," he said, "behold, Satan hath desired to have you, that he may sift you as wheat: But I have prayed for thee, that thy faith fail not" (Luke 22:31-32). Then Jesus added the curious phrase, "and when thou art converted, strengthen thy brethren" (Luke 22:32). This must have been a puzzling phrase to the loyal Peter. Was he not yet converted? Had he not followed the Lord from Galilee? Did he not proclaim him as the very Son of God by the power of the Holy Ghost (Matt. 16:15-16)? And yet Peter was yet to face his greatest test: the actual prospect of torture and cruel death for the testimony of Christ.
It was here on the Mount of Olives that the Lord warned his disciples that they would be scattered that night, but that after he was "risen again" he would meet them in Galilee (Matt. 27:31-32; Mark 14:27-28). Peter protested and proclaimed his loyalty, saying, "Though all men shall be offended because of thee, yet will I never be offended." (Matt. 26:33). Yet Jesus prophesied the surprising fact that "before the cock crow twice, thou shalt deny me thrice" (Mark 14:30). Yet Peter continued to protest, and the scriptural record tells us that the other disciples began to likewise proclaim their loyalty to the death (Matt. 26:35). Though right, Jesus humbly let the matter drop, however. Time would show him correct soon enough.
Jesus then made brief mention of the future missionary work to be done by his disciples, which would be of a far more perilous nature than their previous missionary efforts (Luke 22:35-36). He then referred to his now impending atonement, saying, "I say unto you, that this that is written must yet be accomplished in me, And he was reckoned among the transgressors" (Luke 22:37).
The Atonement in Gethsemane
When the group had reached the garden spot called Gethsemane, Jesus instructed nine of the twelve to sit at the outer rim of the garden. Then he separated Peter, James and John from among them and travelled onward to find a spot in the garden for prayer. (Matt. 26:36-37). None of the disciples yet understood it, but this was the time and place where Jesus the Christ would initiate his great atoning sacrifice for all mankind. In fact, the event seemed so mundane to the three disciples that, with bellies full of paschal lamb, that their eyes began to get heavy (Matt. 26:34). Jesus advised them to "Pray that ye enter not into temptation" (Luke 22:40). While already knowing their fate, it seems that Jesus thought it prudent to encourage them to request the divine assistance they would soon need to fight the temptation to desert him and flee for their lives.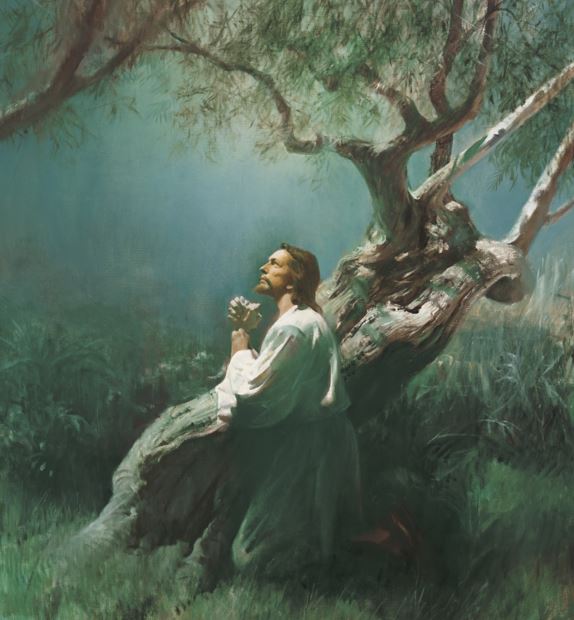 It seems that even before the great prayers in Gethsemane were offered by the Lord, he began to feel the load of the Atonement. "My soul is exceeding sorrowful, even unto death" Jesus reported to Peter, James, and John. He then requested, "Tarry here" (Matt. 26:38) and then "went a little further" (Matt. 26:39) and withdrew from them "about a stone's cast, and kneeled down, and prayed" (Luke 22:41).
His prayer included an agonized plea: "Father, if thou be willing, remove this cup from me" (Luke 22:42). The gravity of all men's hatred, evil, perversion, turmoil, trials, troubles, and burdens at the same intense moment was absolutely crushing. "And he said, Abba, Father, all things are possible unto thee" (Mark 14:36). His plea to his "Abba" is significant, because it denotes a familiarity between parent and child, similar in vernacular to our familiar "Daddy." It signified a most primal and desperate plea of a suffering child.
Yet in the midst of all of this, still in excruciating agony far worse than any of us are capable of imagining (Mosiah 3:7), Jesus declared submission to his Father's plan: "nevertheless not as I will, but as thou wilt" (Matt. 26:39). At this point, an angel from heaven appeared to him to offer comfort and strength (Luke 22:43). Referring to the identity of this angel, Elder McConkie suggested, "surely it is mighty Michael himself" (Bruce R. McConkie, "Three Pillars of Eternity," BYU Speeches, Feb. 17, 1981).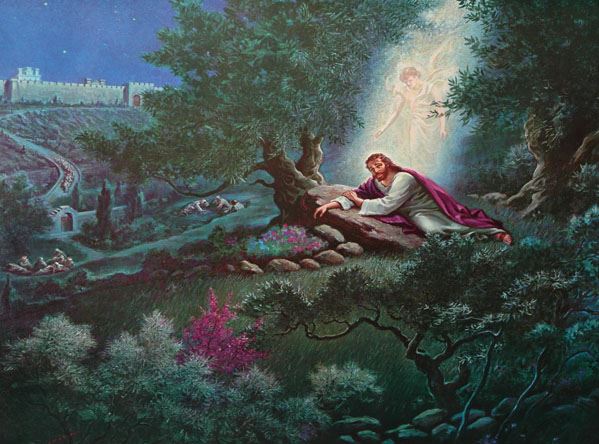 The prayer continued and the agony increased until blood began to seep spontaneously from each pore of his body (Luke 22:44). He did "tremble because of pain, and [it caused him] to bleed at every pore, and to suffer both body and spirit" (D&C 19:18). "…how sore you know not, how exquisite you know not, how hard to bear you know not" (D&C 19:15). There he was agonized with "temptations, and pain of body, hunger, thirst, and fatigue, even more than man can suffer, except it be unto death; for behold, blood [came] from every pore, so great [was] his anguish" (Mosiah 3:7).
Orson F. Whitney, while a young missionary, was privileged with a vision of the Savior's Atonement in the Garden of Gethsemane. He described this moment:
"As He prayed the tears streamed down His face, which was [turned] toward me. I was so moved at the sight that I wept also, out of pure sympathy with His great sorrow. My whole heart went out to Him. I loved Him with all my soul and longed to be with Him as I longed for nothing else."

(Orson F. Whitney as quoted in Jeffrey R. Holland, "The Atonement of Jesus Christ," Ensign, Mar. 2008).
As Jesus arose he must have appeared a horrendous sight. It is possible that his own natural perspiration, which would have been profuse, cleared away much of the blood that had covered his skin. Nevertheless it would have been plain that he was a man who had endured great pain and suffering. He then approached his disciples, who, despite all of his agony had carelessly fallen asleep (Matt. 26:41; Mark 14:37; Luke 22:45). He "shook them gently, awoke them" (Whitney, Ensign, Mar. 2008), then he said to Peter, "Simon, sleepest thou? couldest not thou watch one hour?" (Mark 14:37). Elder Whitney described this rebuke as having "a tone of tender reproach, untinctured by the least show of anger or scolding" (Orson F. Whitney as quoted in Jeffrey R. Holland, "The Atonement of Jesus Christ," Ensign, Mar. 2008).
Jesus again counseled them to pray against temptation, adding in his kindly way, that, "the spirit indeed is willing, but the flesh is weak" (Matt. 26:41). Jesus then returned to his spot and repeated the same torturous experience, again with the desperate plea and resignation, "O my Father, if this cup may not pass away from me, except I drink it, thy will be done" (Matt. 26:42).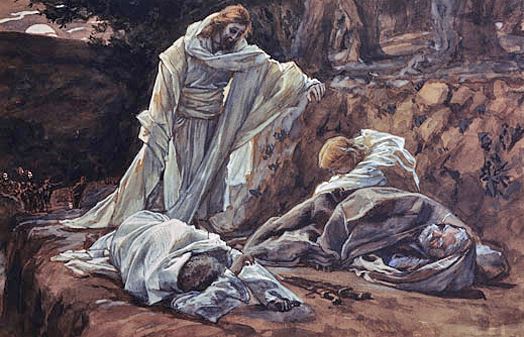 When finished for the second time, Jesus came to find his three apostles again asleep. The account indicates the embarrassment of the disciples when it mentions, "neither wist they what to answer him" (Mark 14:40). Jesus then went a third time and again repeated the same grueling, agonizing experience (Matt. 26:44). After the completion of the third round of agony, Jesus again approached his disciples the third time. But this time he said, "Sleep on now, and take your rest: behold, the hour is at hand, and the Son of man is betrayed into the hands of sinners" (Matt. 26:45).
The Arrest
However, the disciples had little time to rest. Very soon Jesus announced to the three, "Rise, let us be going: behold, he is at hand that doth betray me" (Matt. 26:46). "And while he yet spake, lo, Judas, one of the twelve, came, and with him a great multitude with swords and staves, from the chief priests and elders of the people" (Matt. 26:47). Judas led them straight to Jesus, being well acquainted with the garden spot where Jesus liked to retire. He then kissed Jesus, which served as an identifier to the guards as to which man they should arrest. "Master, master" he said in sacrilegious mockery as he kissed the Lord (Mark 14:45).
Jesus said to Judas, "Friend, wherefore art thou come?" (Matt. 26:50). "Judas, betrayest thou the Son of man with a kiss?" (Luke 22:48). The scriptures record no answer from that devilish man.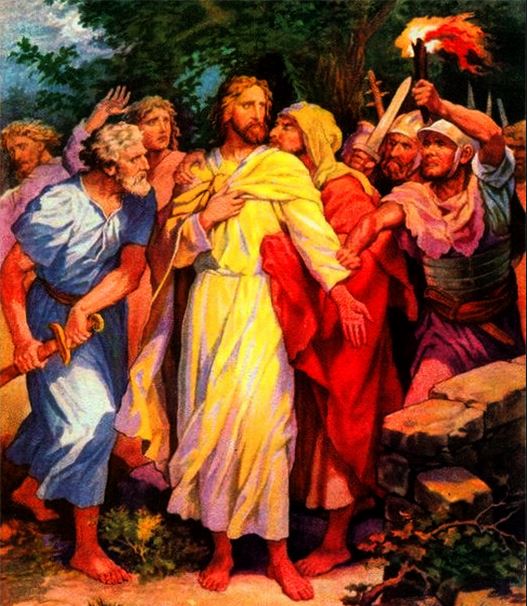 Jesus then said to the guards, "Whom seek ye?" (John 18:4). They answered, "Jesus of Nazareth," to which Jesus replied, "I am he" (John 18:5). As soon as Jesus had said this, the scriptures record that the hostile group "went backward, and fell to the ground" (John 18:6). They must have been momentarily overcome by his Godly majesty and become weak in the knees. He asked them again, "Whom seek ye?" Again, they repeated, "Jesus of Nazareth" (John 18:7). "I have told you that I am he," Jesus told them again. Then, in a sympathetic gesture of concern for his disciples, he said to the guards, "if therefore ye seek me, let these go their way" (John 18:8).
It was at this point that fiery, impulsive Peter drew his sword and cut off the right ear of the high priest's servant, who was named Malchus (John 18:10). In response, Jesus said to Peter, "Put up thy sword into the sheath: the cup which my Father hath given me, shall I not drink it?" (John 18:11). "Put up again thy sword into his place: for all they that take the sword shall perish with the sword. Thinkest thou that I cannot now pray to my Father, and he shall presently give me more than twelve legions of angels?" (Matt. 26:52-53). Jesus then said to Malchus, "Suffer ye thus far," as he touched his ear and healed him (Luke 22:51).
It was at this point that Jesus turned to the other guards and in a criticizing manner, asked, "Are ye come out, as against a thief, with swords and with staves to take me? I was daily with you in the temple teaching, and ye took me not" (Mark 14:48-49). Jesus had preached openly and publicly throughout Jerusalem that entire week. Why did they not apprehend him then? The answer was embarrassingly clear to all those present: this nighttime arrest was orchestrated by the Jewish hierarchy of scribes, Pharisees, and chief priests so as to be accomplished in secret, to avoid outcry at the injustice from among the multitudes (see Luke 19:47-48). Jesus minced no words in criticizing their cowardly act of working under the cover of night: "but this is your hour, and the power of darkness" (Luke 22:53). Jesus concluded, "but the scriptures must be fulfilled" (Mark 14:49). At this point, "all the disciples forsook him, and fled" (Matt. 26:56).
Before the mid-morning of the following day, Jesus would endure five separate trials: Before Annas, Caiaphas and the Sanhedrin, Pontius Pilate, Herod, and Pilate again. Before the Jewish leaders, Jesus would be tried for blasphemy. Before the Roman rulers, he would be tried for "stirring up sedition, making himself a king, and forbidding to give tribute to Caesar" (see LDS Bible Dictionary, 1979, p. 751).
The Trial before Annas
At this point, the guards "bound him" (John 18:12), and took him to Annas first (John 18:13), who was the previous high priest of the Jews. The office of high priest was instituted in the days of Moses, and his brother Aaron was made the first high priest (Ex. 28:1). The office was meant to be the head of the Aaronic Priesthood (D&C 107:13-16), which was the priesthood which Israel was governed under ever since they lost their right to the Melchizedek Priesthood blessings (JST Ex. 34:1-2). Annas was the father-in-law of Caiaphas (John 18:13), the current high priest, and was in many was still the de facto high priest, exercising authority over Israel with cunning and an evil, arrogant pride. If the law of God was properly observed, it would have been John the Baptist who would have been high priest, and not Caiaphas, as John held the true keys of the Aaronic Priesthood (Joseph Smith, Teachings of the Prophet Joseph Smith, p. 276).
Peter and John both followed Jesus to the palace of the high priest (John 18:15). John "went in with Jesus into the palace" (John 18:15), but Peter "stood at the door without" for fear (John 18:15-16). It was a cold night, and Peter was next to a "fire of coals" for warmth (John 18:18). It was here that he was finally recognized as one of Jesus' disciples.
Annas asked Jesus aggressively about his disciples and his doctrine (John 18:19). Jesus responded that the things he had taught were said
publicly, and that Annas should ask the people who listened to his teachings (John 18:22). At this, one of the nearby guards struck Jesus with the palm of his hand and said, "Answerest thou the high priest so?" (John 18:22). Jesus retorted, "If I have spoken evil, bear witness of the evil: but if well, why smitest thou me?" (John 24:23). Frustrated, Annas sent Jesus, still bound, to Caiaphas his son-in-law, who, as mentioned, was the current high priest (John 18:24).
The Trial before the Caiaphas and the Chief Priests
When Jesus was brought to Caiaphas' palace, he found himself arraigned before chief priests, elders, and "all the council" of Sanhedrin (Matt. 26:57, 59). The Sanhedrin was "The Jewish senate and the highest native court in both civil and ecclesiastical matters. Under the presidency of the high priest it regulated the whole internal affairs of the Jewish nation" (LDS Bible Dictionary, 1979, p. 769). The Sanhedrin consisted of "the three classes of chief priests [Levites], scribes [teacher-lawyers], and elders [influential leaders of the people selected for their wisdom and experience]" (ibid.).
The charge against Jesus was blasphemy. This group of hypocrites "sought false witness against Jesus" with the definite purpose "to put him to death" (Matt. 26:59). However, they were having significant difficulty in securing reliable testimony that could attest to the guilt of Jesus, for "many bare false witness against him, but their witness agreed not together" (Mark 14:56). Finally two false witnesses came and said, "This fellow said, I am able to destroy the temple of God, and to build it in three days" (Matt. 26:60-61), which was a distortion of Jesus' teaching at Passover in Jerusalem a few years earlier (John 2:19-21).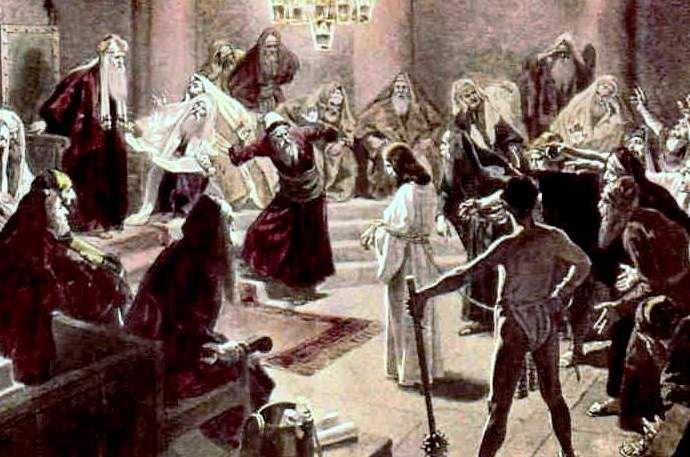 Caiaphas then rose and said furiously, "Answerest thou nothing? what is it which these witness against thee?" (Matt. 26:62). "But Jesus held his peace" (Matt. 26:63). Enraged, Caiaphas finally demanded, "I adjure thee by the living God, that thou tell us whether thou be the Christ, the Son of God" (Matt. 26:63). Jesus looked at Caiaphas and responded in the frankest manner in the affirmative: "I am" (Mark 14:62). He then bore testimony of himself by adding: "and ye shall see the Son of man sitting on the right hand of power, and coming in the clouds of heaven" (Mark 14:62).
Upon hearing this, Caiaphas "rent his clothes," a sign of great grief or displeasure, and pronounced Jesus guilty of blasphemy. "He hath spoken blasphemy," he declared, "what further need have we of witnesses? behold, now ye have heard his blasphemy. What think ye?" (Matt. 26:65-66). The Sanhedrin quickly assented and pronounced, "He is guilty of death" (Matt. 26:66). However, the Sanhedrin had no power to put a man to death under Roman law. Jesus would have to be referred to Roman authority, and for a charge more serious under Roman law than blasphemy (see LDS Bible Dictionary, 1979, p. 751).
It was at this point that Jesus was physically abused by the council. They spit on him, struck him with their hands, and mocked, "Prophesy unto us, thou Christ, Who is he that smote thee?" (Matt. 26:68).
Elder Talmage noted that for at least a dozen reasons the trial of Jesus by the Jews was entirely illegal according to their law (see James E. Talmage, Jesus the Christ, p. 645-648). Some of these reasons included the fact that the trial was conducted at night, in secret, during the Passover feast and before the day of the Jewish Sabbath; that the Sanhedrin brought forth charges itself (which was against protocol), that Jesus received no representation, and several other reasons. This showed the fervor with which the ruling Jewish class hated Jesus.
The Denial of Peter
It was during this time that occurred Peter's bitterest and most memorable failure. Peter is the apostle that most can relate to best, because he was simple, loyal, and headstrong. However, he was also very human in that he was subject to the weakness of the flesh. Though he was the first of the apostles to express testimony that Jesus was the Christ (Matt. 16:15-16), yet he was perpetually plagued with fear due to his weakness in faith. When walking on the Sea of Galilee with Jesus, he began to sink into the waters due to his onset of fear (Matt. 14:30).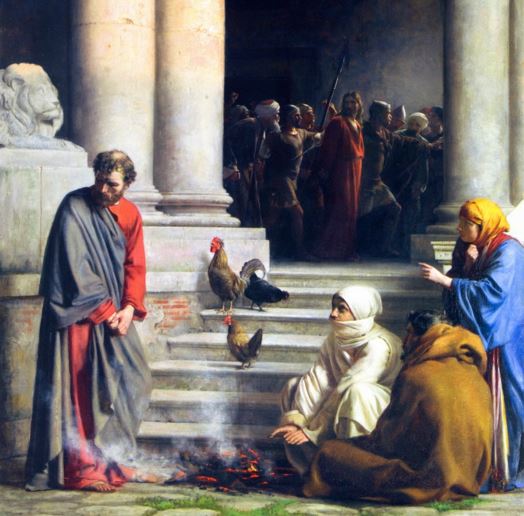 This experience at the palace of the high priest would be another occasion in which he would give in to his fear. And in doing so, he would learn his bitterest and hardest lesson.
Peter was warming himself by a fire outside of the high priest's palace when he was approached by a woman who said, "And thou also wast with Jesus of Nazareth" (Mark 14:67). Peter denied it, and pretended to not know what she was talking about (Mark 14:68). In short order
another woman saw him and made the same accusation (Matt. 26:71). Peter denied it again, this time with a solemn oath (Matt. 26:72). Next, another noticed his Galilean dialect, and said, "Surely thou also art one of them; for thy speech bewrayeth thee" (Matt. 26:73). This time Peter "began … to curse and to swear, saying, I know not the man. And immediately the cock crew" (Matt. 26:74).
At this juncture, Jesus was being transported between palaces, and on his way his eyes met those of Peter (Luke 22:61). Peter, upon realizing what he had done, and how he had fulfilled the words of his master, that he would deny him thrice before the cock crowed, felt a crushing devastation come over him. He "went out, and wept bitterly" (Matt. 26:75).
The Trial before Pilate
Jesus was next delivered bound to Pontius Pilate, the Roman governor over the region (Matt. 26:2; Mark 15:1). Pilate was the one with the authority to order Jesus' execution, but he was skeptical of his guilt. When Jesus was brought to Pilate, he asked the Sanhedrin members sharply, "What accusation bring ye against this man?" (John 18:29).
The weakness of their answer betrayed their evil motives. They said, "If he were not a malefactor, we would not have delivered him up unto thee" (John 18:30). No doubt sensing subtlety in their answer, Pilate responded, "Take ye him, and judge him according to your law" (John 18:31). They Sanhedrin members then revealed their pathetic motives: "It is not lawful for us to put any man to death" (John 18:31). They were seeking to use Pilate for his authority to accomplish their evil deed.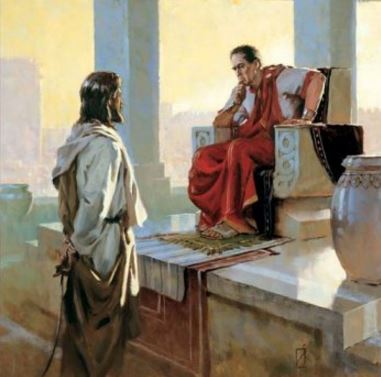 Nevertheless, Pilate proceeded with an interrogation in his own judgment hall (John 18:33). Pilate queried of Jesus, "Art thou the King of the Jews?" Jesus would not speak during his Jewish trials, for his accusers knew quite well the evil they were perpetrating. But Pilate was a gentile, largely unacquainted with Jewish prophecy and was therefore not in the same spiritual position. Jesus would have limited discourse with Pilate (Matt. 27:12). He answered Pilate's query with a question: "Sayest thou this thing of thyself, or did others tell it thee of me?" (John 18:34).
Disgusted with the Jewish hierarchy and mystified by the situation he found himself in, Pilate said to Jesus, "Am I a Jew? Thine own nation and the chief priests have delivered thee unto me: what hast thou done?" (John 18:35). Jesus then explained the nature of his kingship: "My kingdom is not of this world: if my kingdom were of this world, then would my servants fight, that I should not be delivered to the Jews: but now is my kingdom not from hence" (John 18:36).
"Art thou a king then?" Pilate asked, looking for any justification to the charges. Jesus responded in the affirmative, "Thou sayest" (Matt. 27:11). Then, referring to his impending execution, Jesus said, "To this end was I born, and for this cause came I into the world, that I should bear witness unto the truth." Then, no doubt as an indictment to the Jewish hierarchy as well as a general statement, Jesus added, "Every one that is of the truth heareth my voice" (John 18:37).
"What is truth?" Pilate asked, probably completely uninterested in whatever Jesus' answer may have been. Pilate had only contempt for the Jewish religion (LDS Bible Dictionary, 1979, p. 751), and certainly no interest in the morality of its doctrines. He then left his judgment hall went out to the Sanhedrin members in his palace. "I find in him no fault at all," he told them (John 18:38; Luke 23:4).
Trial before Herod the King
Upon telling the Jews that he thought Jesus guiltless, they attempted to persuade with him, becoming animated with anger. "He stirreth up the people," they said, "teaching throughout all Jewry, beginning from Galilee to this place" (Luke 23:5). Upon hearing that Jesus was a Galilean, Pilate saw a clever opportunity out of this uncomfortable situation: He would send Jesus to Herod, whose jurisdiction included Galilee; and Herod happened to be in town for the Passover feast as well, which made it doubly convenient (Luke 23:6-7). Herod Antipas was a member of a powerful family who had intermarried with Jewish nobility and had become regional kings operating under Roman authority (the title "tetrarch" means "ruler of a quarter"). He was the son of the very Herod who ordered the massacre of all the children of Bethlehem when Jesus was a child, specifically in an attempt to kill the Christ child (Matt. 2:16). And he was the very same Herod who ordered the death of John the Baptist, Jesus' cousin, and for a time was worried that Jesus might be John the Baptist come back to life to torment him (Matt. 14:1-11).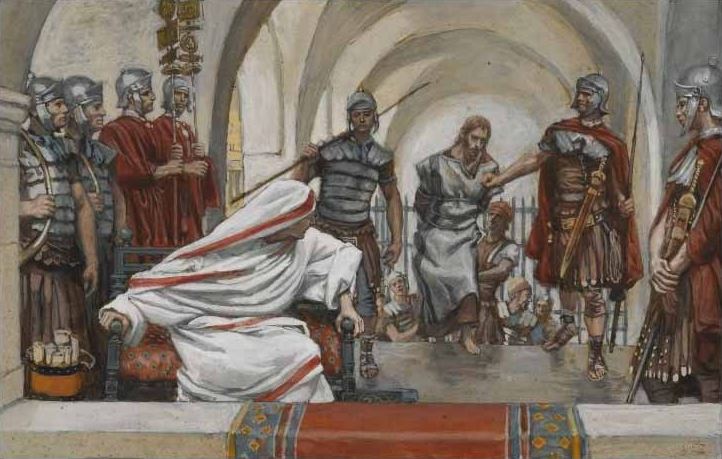 Nevertheless, Herod was excited to see Jesus, as he had a fascination with him as a celebrity in the region, and he "hoped to have seen some miracle done by him" (Luke 23:8). Jesus did not indulge Herod or his chief priests and scribes for their amusement like some petty performer, however, and he stood silent while they questioned him (Luke 23:9). Frustrated, "the chief priests and scribes stood and vehemently accused him" (Luke 23:10). They then mocked him, "arrayed him in a gorgeous robe," and merely sent him back to Pilate without making any decision on his case whatsoever (Luke 23:11).
The Second Trial before Pilate
With Jesus back in his care, Pilate announced to the "chief priests and the rulers and the people":
"Ye have brought this man unto me, as one that perverteth the people: and, behold, I, having examined him before you, have found no fault in this man touching those things whereof ye accuse him:

"No, nor yet Herod: for I sent you to him; and, lo, nothing worthy of death is done unto him.

"I will therefore chastise him, and release him."

(Luke 23:13-16).
It was, after all, customary to release a prisoner during the time of the Passover feast (Luke 23:17; Matt. 27:15). He had no desire to execute Jesus just to please them. "For he knew that for envy they had delivered him" (Matt. 27:18). Also, Pilate's own wife had pleaded with him to not involve himself with this man Jesus' situation, as she had a disturbing dream about the matter (Matt. 27:19). "Will ye that I release unto you the King of the Jews?" he asked the crowd hopefully (Mark 15:9).
But when the chief priests and rulers saw that Pilate did not care to put Jesus to death, they went into a frenzy of anger and demanded that Barabbas, a murderer guilty of sedition, be released instead of Jesus (Luke 23:18-19), and he was also a robber (John 18:40).
Pilate attempted reasoning with them. It didn't work. "Crucify him, crucify him" they cried (Luke 23:21). "Why," Pilate asked, "what evil hath he done? I have found no cause of death in him: I will therefore chastise him, and let him go" (Luke 23:22). But the frenzy only intensified, and "they were instant with loud voices, requiring that he might be crucified. And the voices of them and of the chief priests prevailed" (Luke 23:23). Pilate relented, and gave the order for Jesus to be crucified (Luke 23:24).
Still not wishing to bear the responsibility, Pilate washed his hands in water, Pilate announced to them, "I am innocent of the blood of this just person: see ye to it" (Matt. 27:24). Then the crowd answered back that they accepted the responsibility for his death, "His blood be on us, and on our children" (Matt. 27:25). This startling passage no doubt accounts for the unfortunate course of events that have plagued the Jewish people for centuries. "for I the Lord thy God am a jealous God," the scriptures say, "visiting the iniquity of the fathers upon the children unto the third and fourth generation of them that hate me" (Ex. 20:5). It would not be many years hence when, in 70 A.D., Jerusalem would be decimated by the Romans and the Jews scattered to the four corners of the earth until the latter-days.
Jesus is Tortured Prior to His Crucifixion
Soldiers then took Jesus into the "common hall" (Matt. 27:27) called "Prætorium" (Mark 15:16). There Jesus was "scourged" or whipped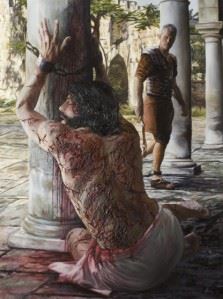 with leather strands that contained shards of sharp bone or metal. The purpose of these shards was to open up gaping wounds in the flesh with each strike. It is hard to over-emphasize the seriousness of the scourging process. It is likely that the scourging alone would have put Jesus into critical condition, and many died from it alone (James E. Talmage, Jesus the Christ, p. 638-639). The torture was so brutal that the law prescribed that anyone whipped 40 times and survived would automatically be pardoned of their crime. Therefore, it was customary to whip criminals only 39 times, as was done to Jesus.
To literally add insult to injury, the soldiers next put a purple robe over his open wounds, and put upon his head a makeshift crown, made of twisted thorns. They put it in his hand as scepter, and mocked him, saying, "Hail, King of the Jews!" They then took the reed from his hand and hit him with it disrespectfully, and spat on him (JST Matt. 27:28-30). Not only was Jesus in serious medical distress, but he was being mocked mercilessly as his blood flowed liberally from his body. After the mockery was completed, they removed the robe and put his own clothes back on him (Matt. 27:31).
Part of the punishment of crucifixion entailed the condemned person suffering the indignity of carrying the instrument of their own death upon their back. Jesus was likewise forced (John 19:17). However, as must have been common, he was in no physical condition for such a strenuous exercise, and after a certain point they had to compel an onlooker named Simon of Cyrene to carry the cross for him (Luke 23:26). Simon was the father of men who would become believers and familiar names within the early Christian community (Mark 15:21).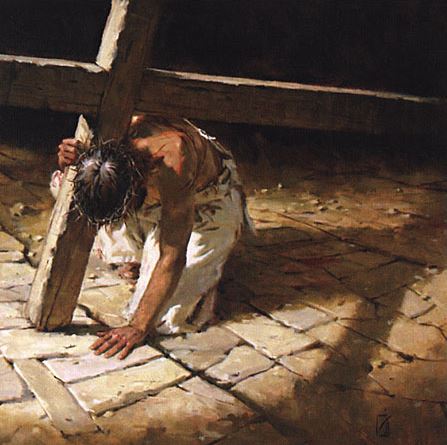 On the way to the place of crucifixion, Jesus was followed by "a great company of people, and of women, which also bewailed and lamented him" (Luke 23:27). He turned to them and once again predicted the destruction of Jerusalem in consequence of rejecting the Son of God:
"Daughters of Jerusalem, weep not for me, but weep for yourselves, and for your children.

"For, behold, the days are coming, in the which they shall say, Blessed are the barren, and the wombs that never bare, and the paps which never gave suck.

"Then shall they begin to say to the mountains, Fall on us; and to the hills, Cover us."

(Luke 23:28-30).
This would occur in 70 A.D. when the Romans would siege the city and decimate the temple.
The Crucifixion
Jesus was marched toward Golgotha, also called Calvary, which are Hebrew and Latin, respectively for "the place of the skull" (James E. Talmage, Jesus the Christ, p. 667; John 19:17). The hill was directly to the north of the city and in close proximity. In fact, in later years, Golgotha became part of the city limits of Jerusalem, and now sits within a walled portion of the city (see LDS Bible Maps, 2000, Map #12).
Here the soldiers drove nails through the hands, wrists, and feet of Jesus and raised him up on his cross. It was the third hour, or nine o'clock in the morning, when he was raised up on the cross (Mark 15:25). On the cross Jesus would again suffer all of the agonies of Gethsemane, but now he would be burdened with the additional pain of a cruel death.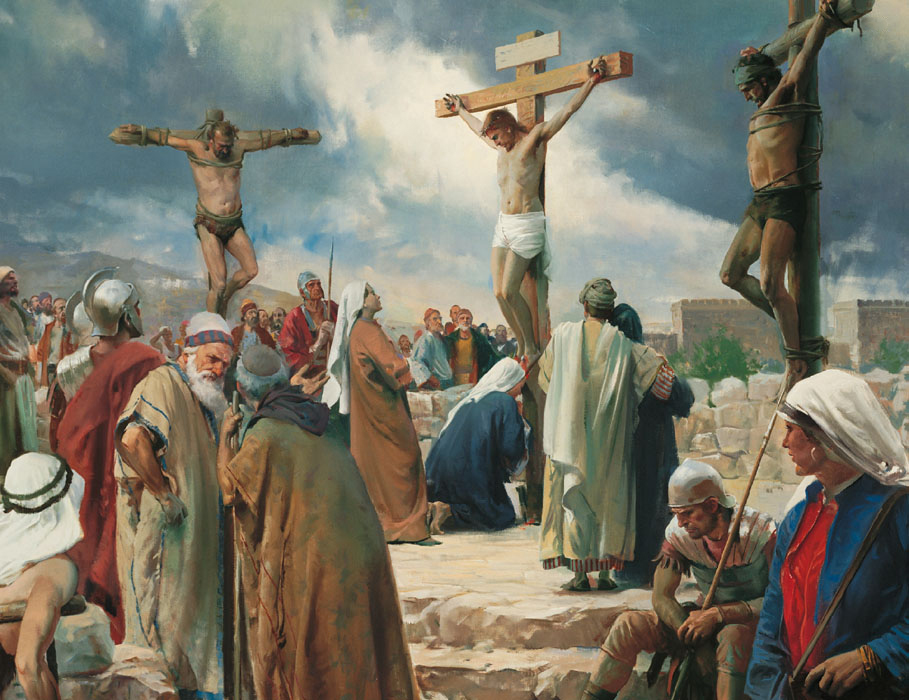 Upon being raised on the cross by the Roman soldiers, Jesus prayed to his Father in their behalf: "Father, forgive them; for they know not what they do" (Luke 23:34). The Roman soldiers would not be held accountable for the gravity of their grievous crime, because they did not have the slightest idea just who they were really killing. The scribes, chief priests, and Pharisees, however, would receive no such leniency, as they were guilty to the uttermost (see Joseph Smith, Teachings of the Prophet Joseph Smith, p. 188).
The soldiers then offered Jesus "vinegar to drink mingled with gall" (Matt. 27:34), yet upon tasting it he refused to drink it. The vinegar was not offered in any attempt at mockery, but rather as a gesture of mercy. Elder Talmage added this insight about the vinegar:
"Preparatory to affixing the condemned to the cross, it was the custom to offer each a narcotic draught of sour wine or vinegar mingled with myrrh and possibly containing other anodyne ingredients, for the merciful purpose of deadening the sensibility of the victim. This was no Roman practise, but was allowed as a concession to Jewish sentiment. When the drugged cup was presented to Jesus He put it to His lips, but having ascertained the nature of its contents refused to drink, and so demonstrated His determination to meet death with faculties alert and mind unclouded."

(James E. Talmage, Jesus the Christ, p. 654-655).
Nevertheless, the soldiers did offer the vinegar in a cruel, mocking manner (Luke 23:36).
At the foot of the cross stood Mary, Jesus's mother (John 19:25). This moment was the fulfillment of the old sage Simeon's words when Jesus was eight days old and brought to the temple for his circumcision. He prophesied to Mary, "Behold, this child is set for the fall and rising again of many in Israel; and for a sign which shall be spoken against; (Yea, a sword shall pierce through thy own soul also…)" (Luke 2:34-35). Watching her Son, now being cruelly put to death, was a sword through her very soul. With the mother of Jesus was John the apostle, Mary the wife of Cleophas, and Mary Magdelane (John 19:25-26).
Despite all of the cruel pain that Jesus was enduring, both as a result of the torture of crucifixion and the agonies of his Atonement, his thoughts at this point had turned to his mother's aching heart. While hanging on the cross and in the process of dying, he entrusted John with the care of his mother. "Woman," he said, which was a term of respect, "behold thy son!" referring to John. Then to John, he said, "Behold thy mother!" (John 19:27). From then on, John took Mary the mother of Jesus into his own home and cared for her as his own mother (John 19:27).
Jesus was crucified between two other convicts (John 19:18), identified as thieves by Matthew and Mark (Matt. 27:38; Mark 15:27). Upon Jesus' cross was specially placed a placard at the request of Pilate, which read "JESUS OF NAZARETH THE KING OF THE JEWS" in three different languages: Hebrew, Greek, and Latin (John 19:19-20). The chief priests protested this sign, but Pilate had done it in defiance of those who had forced his hand in the matter of Jesus of Nazareth. "What I have written I have written," he told them (John 19:22).
One of the thieves next to Jesus cried out, "If thou be Christ, save thyself and us" (Luke 23:39). But the other thief was more spiritually sensitive, and "answering rebuked him, saying, Dost not thou fear God, seeing thou art in the same condemnation? And we indeed justly; for we receive the due reward of our deeds: but this man hath done nothing amiss" (Luke 23:40-41). This better thief then directed his words at Jesus, saying, "Lord, remember me when thou comest into thy kingdom" (Luke 23:42). In response, Jesus told him, "Verily I say unto thee, To day shalt thou be with me in paradise" (Luke 23:43).
This phrase has often been misunderstood, but the Prophet Joseph Smith clarified it for us. He said,
"There has been much said by modern divines about the words of Jesus (when on the cross) to the thief, saying, 'This days shalt thou be with me in paradise.' King James' translators make it out to say paradise. But what is paradise? It is a modern word: it does not answer at all to the original word that Jesus made use of…. There is nothing in the original word in Greek from which this was taken that signifies paradise; but it was – This day thou shalt be with me in the world of spirits: then I will teach you all about it and answer your inquiries."

(Joseph Smith, Teachings of the Prophet Joseph Smith, p. 309).
As Jesus was being crucified, some of the soldiers attending his execution cast lots over who would receive his clothing as items of plunder (John 19:23-24).
There were many onlookers at the site of execution, many of whom were critics of Jesus. They mocked him and his teachings, believing that all of it had finally come to naught.
"And they that passed by reviled him, wagging their heads,

"And saying, Thou that destroyest the temple, and buildest it in three days, save thyself. If thou be the Son of God, come down from the cross.

"Likewise also the chief priests mocking him, with the scribes and elders, said,

"He saved others; himself he cannot save. If he be the King of Israel, let him now come down from the cross, and we will believe him.

"He trusted in God; let him deliver him now, if he will have him: for he said, I am the Son of God."

(Matt. 27:39-43).
After three hours of being on the cross, darkness began to swell in the heavens. This darkness would remain for three hours, the remaining time that Jesus would be on the cross (Matt. 27:45).
At the end of the six hours, "Jesus cried with a loud voice, saying, Eli, Eli, lama sabachthani? that is to say, My God, my God, why hast thou forsaken me?" (Matt. 27:46). At this moment, Jesus was totally and utterly alone in his atoning sacrifice. In Gethsemane he had the aid of a visiting angel. But here on the cross he was surrounded by mockers, his hands, wrists, and feet pierced with cruel nails, and his body contorted in an uncomfortable position. This was, without a doubt, the most difficult moment of his entire Atonement. His mockers misunderstood his cry and supposed that he was calling for Elijah (Matt. 27:47).
Jesus cried out in agony, "I thirst" (John 19:28). For the second time Jesus was offered the vinegar mixture to dull the pain by means of a sponge on the end of a reed (Matt. 27:48). But the mockers of Jesus protested, saying, "Let be, let us see whether Elias will come to save him" (Matt. 27:49). They would wish to see him be denied that one merciful respite in his dying hour.
At this point, Jesus had finally completed the Atonement, once and for all (Rom. 6:10). In great relief, Jesus cried out with a loud voice, "It is finished" (John 19:30), "Father, into thy hands I commend my spirit" (Luke 23:46), then he "bowed his head, and gave up the ghost" (John 19:30).
It was at this point that "the veil of the temple was rent in twain from the top to the bottom; and the earth did quake, and the rocks rent" (Matt. 27:51). With this dramatic scene, one of the Roman soldiers attending the crucifixion exclaimed, "Truly this was the Son of God" (Matt. 27:54).
To expedite the deaths of the condemned, so that they would not remain on the cross for the Sabbath day, the Jews requested that their legs be broken (John 19:31). The legs of the thieves were broken (John 19:32). However, when the soldiers came to Jesus, he already appeared dead. To test this, one of the guards pierced his side with his spear (John 19:34). Upon doing so, "forthwith came there out blood and water" (John 19:34). They broke no bone in his body, fulfilling scripture (John 19:33, 36).
Jesus had hung on the cross for a total six hours, from the third hour (Mark 15:25) to the ninth hour (Mark 15:34-37; Matt. 27:46-50), or from nine A.M. to four o'clock in the afternoon.
As to the actual cause of death, Elder James E. Talmage noted that it was likely due to a literal broken heart. He wrote:
"The strong, loud utterance, immediately following which He bowed His head and 'gave up the ghost', when considered in connection with other recorded details, points to a physical rupture of the heart as the direct cause of death. If the soldier's spear was thrust into the left side of the Lord's body and actually penetrated the heart, the outrush of 'blood and water' observed by John is further evidence of a cardiac rupture; for it is known that in the rare instances of death resulting from a breaking of any part of the wall of the heart, blood accumulates within the pericardium, and there undergoes a change by which the corpuscles separate as a partially clotted mass from the almost colorless, watery serum."

(James E. Talmage, Jesus the Christ, p. 669).
And that is the story about how the God who created our world, our sun and sky, and our universe, died.
PART II: The Resurrection
Necessity of the Resurrection
The resurrection has its roots in the Fall of Adam, which brought death into the world. Moroni taught that,
"Behold, [God] created Adam, and by Adam came the fall of man. And because of the fall of man came Jesus Christ, even the Father and the Son; and because of Jesus Christ came the redemption of man.

" And because of the redemption of man, which came by Jesus Christ, they are brought back into the presence of the Lord; yea, this is wherein all men are redeemed, because the death of Christ bringeth to pass the resurrection, which bringeth to pass a redemption from an endless sleep, from which sleep all men shall be awakened by the power of God when the trump shall sound; and they shall come forth, both small and great, and all shall stand before his bar, being redeemed and loosed from this eternal band of death, which death is a temporal death."

(Mormon 9:12-13).
It can be readily seen, therefore, that the Fall of Man triggered the need for the Atonement. If the Fall of Man did not occur, as the theory of evolution would seem to indicate very strongly, since it teaches of death before Adam, then the entire reason for Jesus Christ coming to the earth and dying falls flat on its face. Atheist G. Richard Bozarth understood this perfectly, and he remarked:
"Christianity has fought, still fights, and will fight science to the desperate end over evolution, because evolution destroys utterly and finally the very reason Jesus' earthly life was supposedly made necessary. Destroy Adam and Eve and the original sin, and in the rubble you will find the sorry remains of the Son of God. If Jesus was not the redeemer who died for our sins, and this is what evolution means, then Christianity is nothing."
(G. Richard Bozarth as quoted in Duane T. Gish, Creation Scientists Answer Their Critics, p. 371).
And you know what? He is right. We can see, therefore that incorporating evolution into the Gospel is not an innocent thing at all. It actually undermines the Atonement, and therefore the very foundation of our religion. It is a dangerous departure from the truth.
God himself is a corporeal being, meaning that he has a body (D&C 130:22). It is only by means of obtaining a body that we shall ever be entitled for the "fullness of joy" which God now experiences (D&C 93:33-34).
Universality of the Resurrection
The resurrection is completely universal. All those who have ever lived shall be raised from the dead, regardless of their worthiness or conduct in life. Paul has written, "For as in Adam all die, even so in Christ shall all be made alive" (1 Cor. 15:22). Likewise, Jesus taught,
"Marvel not at this: for the hour is coming, in the which all that are in the graves shall hear his voice, And shall come forth; they that have done good, unto the resurrection of life; and they that have done evil, unto the resurrection of damnation."

(John 5:28-29, emphasis added).
Of course, it was because of the works of Jesus Christ, the Son of God, that this thing is made possible. Because he performed the amazing feat of bringing himself back from the dead, he became Master over death, with power to defeat it forever (1 Cor. 15:26).
Nature of the Resurrection
What is the nature of the resurrected body? First of all, while all people will be resurrected, not all will be resurrected to the same glory, or with the same quality of body. This is determined by personal worthiness and commitment to the Lord and his commandments. The scriptures say,
"All flesh is not the same flesh.... There are also celestial bodies, and bodies terrestrial: but the glory of the celestial is one, and the glory of the terrestrial is another. There is one glory of the sun, and another glory of the moon, and another glory of the stars: for one star differeth from another star in glory. So also is the resurrection of the dead."

(1 Corinthians 15:39-42).
Secondly, a resurrected person cannot die again, for they see "no more corruption" (Alma 12:18; 11:45). Deformities, incapacities, and Illnesses are forever banished. They are restored to their "perfect frame" (Alma 11:43-44), that "not so much as a hair of their heads be lost" (Alma 11:44).
Thirdly, a resurrected person retains their unique identity. We are forever "us" (Alma 34:34), yet if we have chosen well and are granted exaltation, as we progress in the spirit we become a vastly improved version of ourselves.
Fourthly, that which is characteristically mortal and corruptible will be expunged from resurrected bodies. The Prophet Joseph Smith taught that, "all will be raised by the power of God, having spirit in their bodies, and not blood" (Joseph Smith, Teachings of the Prophet Joseph Smith, p. 199-200, emphasis added). Indeed, the scriptures teach that "flesh and blood cannot inherit the kingdom of God" (1 Cor. 15:50), neither is God "flesh and blood" (Matt. 16:17). But we know from elsewhere that "flesh and bone" can, and indeed has, as proven by the Risen Lord Himself: "handle me, and see" he said, after he was risen from the dead, "for a spirit hath not flesh and bones, as ye see me have" (Luke 24:39). God is not merely a Spirit (recall John 4:24).
Fifthly, no blessings are to be denied to the faithful when they have become resurrected beings. As a case in point, Elder Melvin J. Ballard related,
"You mothers worry about your little children [who have died]. We do not perform sealings for them. I lost a son six years of age, and I saw him a man in the spirit world after his death, and I saw how he had exercised his own freedom of choice and would obtain of his own will and volition a companion, and in due time to him, and all those who are worthy of it, shall come all of the blessings and sealing privileges of the house of the Lord. Do not worry over it. They are safe; they are all right.

"Now, then, what is the status of your daughters who have died and have not been sealed to some man? … The sealing power shall be forever and ever with this Church, and provisions will be made for them. We cannot run faster than the Lord has provided the way. Their blessings and privileges will come to them in due time. In the meantime, they are safe."

(Bryant S. Hinckley, Sermons and Missionary Services of Melvin J. Ballard, Deseret Book Company, 1949, p. 260.)
The Resurrection as Part of the Easter Story
How has all of this been accomplished? What has made these things so? What is the Easter Story? What is the story of the resurrection of which we shall take part?
Jesus is Buried in Joseph of Arimathea's Tomb
After Jesus had died on the cross on Friday afternoon, Joseph of Arimathea, a "counselor" (i.e. a member of the Sanhedrin) and a disciple of Jesus of significant influence and means (Matt. 27:57), went to Pilate to beg the body of Jesus (Matt. 27:57-58; Mark 15:43-46). Pilate granted it, and on Friday night Jesus' body was placed in what was originally meant to be the tomb of Joseph of Arimathea himself (Matt.
27:59-60). It was a garden tomb, and the tomb itself was covered by a large stone which could be rolled in front of the entrance (Matt. 27:60). The chief priests and Pharisees prevailed upon Pilate to place a guard at the tomb of Jesus. They were worried that the disciples of Jesus would steal his body and claim that he had risen from the dead, as he taught that he would (Matt. 27:62-66).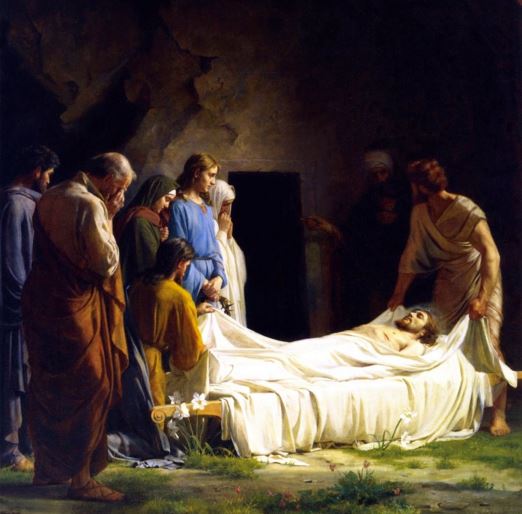 On the third day, which was Sunday morning, some forty hours later, a marvelous thing occurred: There was an earthquake, and two angels descended from heaven and rolled the stone rolled away (JST Matt. 28:2). The might and majesty of these angels was such that the Roman guards "did shake, and became as dead men" (Matt. 28:4). Who were these two angels? We don't know. But perhaps they were mighty Michael, the archangel, who stood next to Christ in authority, and was the first man of all men, who precipitated the Fall of Man and originally brought death into the world; and perhaps the second was Gabriel, who heralded the coming of Christ to the world before his birth, and who stood next to Michael in authority, and who saved mankind from the Flood.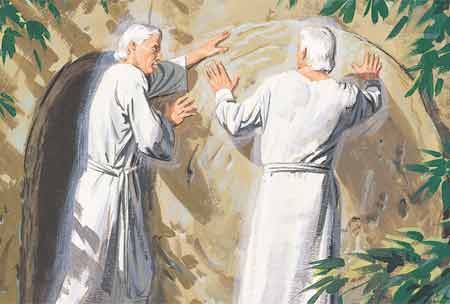 The Women Come to the Empty Tomb
Shortly after this occurred, while still "very early in the morning" (Luke 24:1) "as it began to dawn" (Matt. 28:1), and "early, when it was yet dark" (John 20:1), Mary Magdalene, along with the "Mary the mother of James [the Less], and Salome" (Mark 16:1; cf. Mark 15:40) the wife of Zebedee (Matt. 27:56 cf. Mark 15:40) and therefore the mother of James and John (Mark 1:19-20; Luke 5:10), came to visit the tomb in order to anoint the body of the Lord with spices and ointment. Mary Magdalene was a close personal friend of Jesus, to whom he may have been married. They found the stone rolled away and entered the tomb "much perplexed" (Luke 24:4). It seems, by process of deduction, that upon finding the empty tomb, Mary Magdalene, in her grief, must have separated from this body of women. The shock of finding an empty tomb, evidence of a presumed stolen corpse, on the already emotionally fragile Mary was just too much; evidently at this juncture she departed from the tomb in tears of overwhelming grief.
The rest of the women, however, tarried in the tomb longer. The angels were then next to them within the tomb "in shining garments" (Luke 24:4). One was sitting off to their right (Mark 16:5), where Jesus' body had once lain. The women at first were frightened by the unexpected visitors (Mark 16:5; Luke 24:5). The angel who was sitting uttered to these women what President Hinckley referred to as "the most profound [words] in all literature" (Gordon B. Hinckley, "He Is Not Here, but Is Risen," General Conference, Apr. 1999):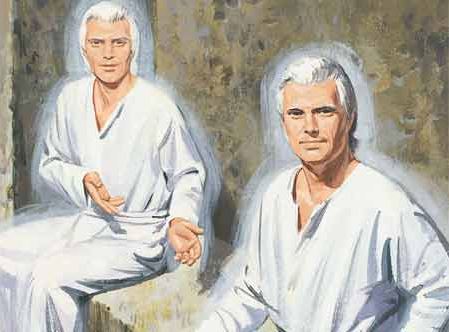 "Fear not ye: for I know that ye seek Jesus, which was crucified.

"He is not here: for he is risen, as he said. Come, see the place where the Lord lay.

"And go quickly, and tell his disciples that he is risen from the dead; and, behold, he goeth before you into Galilee; there shall ye see him: lo, I have told you."

(Matthew 28:5-7).
Jesus Appears to Mary Magdalene, the First to See the Risen Lord
Mary Magdalene, probably having missed this heavenly communication, likely arrived first and went straight to Peter and John and reported, "They have taken away the Lord out of the sepulchre, and we know not where they have laid him" (John 20:2). Peter and John raced to the tomb to see for themselves. John, perhaps due to his younger age, and perhaps also due to the realization of what was occurring dawning upon him, outran Peter to the empty tomb (John 20:4). There they saw the linen clothes coverings which once had enwrapped the body of Jesus (John 20:6-7). It was at this point that John realized what had occurred. He reported that he "saw, and believed" (John 20:8). Not comprehending as John, the other disciples "went away again unto their own home" (John 20:9-10).
Not long after Peter and John's investigation, Mary Magdalene returned to the empty tomb. She was yet without closure. All she knew or cared about was that the body of Jesus was missing, and she needed to know where it was to be at peace. "Mary stood without at the sepulchre weeping: and as she wept, she stooped down, and looked into the sepulchre" (John 20:11). There she saw now the two angels, this time both sitting at the table where Jesus' body had lain (John 20:12). They asked her, "Woman, why weepest thou?" (John 20:13).
Mary's melancholy response was, "Because they have taken away my Lord, and I know not where they have laid him" (John 20:13). At this point, she "turned herself back," and the Risen Lord came into view of Mary's peripheral vision, although she paid him little mind, not yet realizing who it was (John 20:14).
Repeating the question of the two angels, the Lord Jesus asked, "Woman, why weepest thou? whom seekest thou?" Still with her face not fully turned to him, and preoccupied with her grief, Mary assumed that it was the gardener speaking to her. She responded, "Sir, if thou have borne him hence, tell me where thou hast laid him, and I will take him away" (John 20:15).
Then Jesus uttered her name in that familiar tone: "Mary" (John 20:16). At once she turned and saw her Lord, and exclaimed, "Rabboni"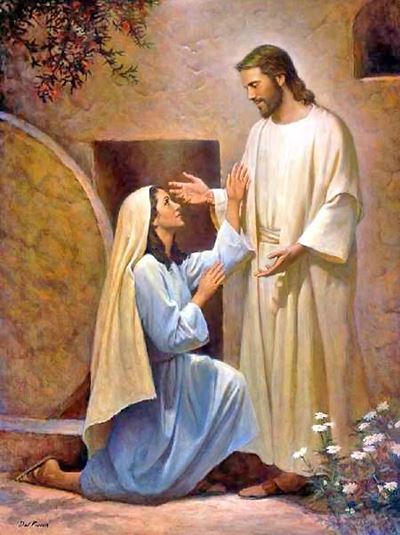 which means "master" (John 20:16) or "my beloved master" (James E. Talmage, Jesus the Christ, p. 681). It was the profoundest term of respect and endearment available to Mary to utter.
Mary Magdalene became the first mortal to see the Risen Lord (see Mark 16:9).
No doubt at this point she reached out and embraced him for joy. The record indicates that Jesus had to ask her to let go so that he could continue with his agenda: "Touch me not," he said, or as more modern translations have rendered it, "Stop clinging to me" (John 20:17, New American Standard Bible, New American Standard 1977).
"…for I am not yet ascended to my Father: but go to my brethren, and say unto them, I ascend unto my Father, and your Father; and to my God, and your God" (John 20:17).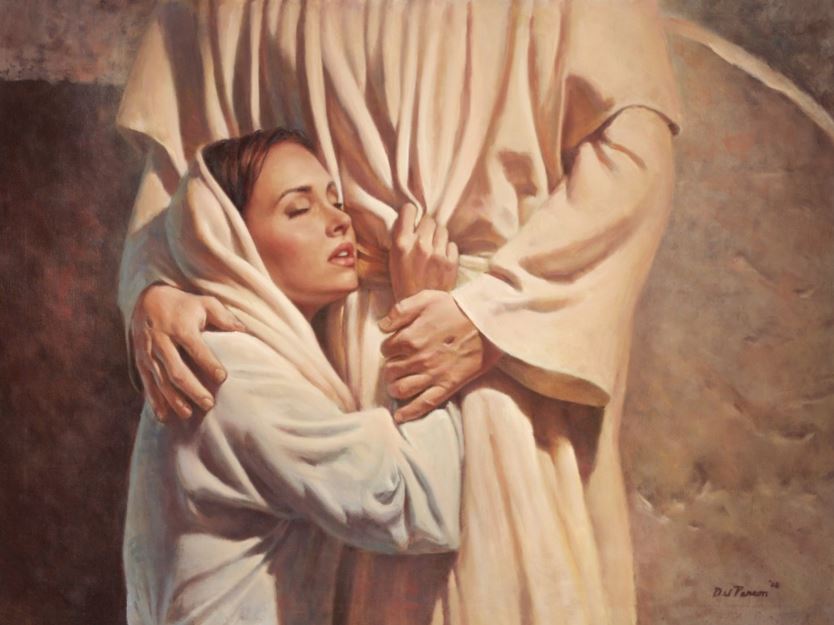 In time Mary managed to let go of her beloved Jesus, and the record indicates that she now went and told the disciples that this time she had actually seen the Lord risen from the dead (John 20:18).
The Risen Lord Appears to the Other Women
The other women who had seen the angels at the empty tomb "departed quickly from the sepulchre with fear and great joy" (Matt. 28:8) to tell the disciples as they were instructed. On their way back, the Risen Lord appeared to them and saluted them with, "All hail" (Matt. 28:9). The record says that "they came and held him by the feet, and worshipped him" (Matt. 28:9). Jesus then reiterated to them what the angels had told them earlier: that they were to tell his disciples to meet with him in Galilee, which was some 63 miles to the north. The women, now joined by Joanna (Luke 24:10), a disciple who was the wife of Herod's steward (Luke 8:3), and Mary Magdalene, ran and found the eleven disciples (Luke 24:9). However, the news from these frantic women was not well-received by the disciples. The scriptures record that "their words seemed to them as idle tales, and they believed them not" (Luke 24:11).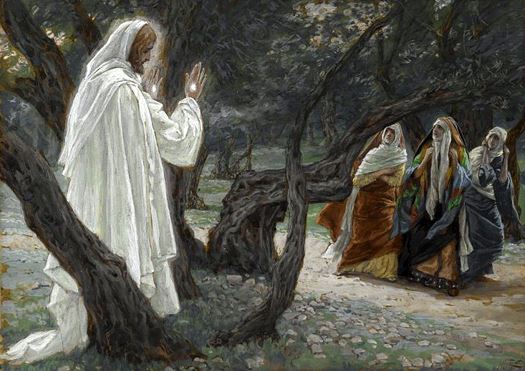 The Risen Lord Appears to Peter
The men who were on the road to Emmaus, who will be discussed in turn, related the special visitation that Jesus had made to Peter, which has gone almost completely unrecorded in the Bible. They testified, "The Lord is risen indeed, and hath appeared to Simon" (Luke 24:34). No doubt Peter related this experience to them on their way back into Jerusalem to announce their experience. Years later, the Apostle Paul verified that the Risen Lord "was seen of Cephas [i.e. Peter], then of the twelve" (1 Cor. 15:5, emphasis added), confirming that Peter had been visited prior to the other disciples in the upper room. It is certain that Peter's special visitation was after Christ's visit to Mary Magdalene and the other women, but before Christ's visit to the disciples on the road to Emmaus. Why did the Lord make a special visit to Peter prior to showing himself openly to the rest of the Twelve? No doubt our kindly Lord wished to put his friend Peter at peace after his emotionally devastating failure when he denied the Lord the night before his crucifixion. The Lord loved Peter and it is evident from this special appearance that he wished to show him particular care and forgiveness.
The Risen Lord Appears to the Disciples on the Road to Emmaus
After the appearance of the Risen Lord to the women and then to Peter, we are told that two followers of Jesus (not apostles) were travelling from Jerusalem to Emmaus (Luke 24:13; Mark 16:12), a town "between seven and eight miles" northwest of Jerusalem (see James E. Talmage, Jesus the Christ, p. 685). One of these men was Cleopas (Luke 24:18), who was likely the husband of one of the women that stood at the feet of the cross while the Lord was being crucified (John 19:25).
These men "talked together of all these things which had happened" as they walked (Luke 24:14). As they did so, Jesus "drew near" and joined them on their walk (Luke 24:15; Mark 16:12). "But their eyes were holden that they should not know him" (Luke 24:16). Jesus asked them, "What manner of communications are these that ye have one to another, as ye walk, and are sad?" (Luke 24:17). Incredulous at the seeming ignorance of their newfound travelling companion, Cleopas answered, "Art thou only a stranger in Jerusalem, and hast not known the things which are come to pass there in these days?" (Luke 24:18). "What things?" Jesus enquired (Luke 24:19). The two men then explained about the ministry and death of Jesus Christ, and their disappointment at his death, supposing that it dashed their hopes of him being the promised Redeemer of Israel (Luke 24:19-21). The men then mentioned the strange events of that morning: the amazing report of the women at who went to the tomb and said that his body was missing and that angels had appeared at the empty tomb and indicated that Jesus was now alive (Luke 24:22-23). They related how some (no doubt Peter and John) had gone to the tomb and confirmed that it was empty as the women said, but that they were unable to confirm whether the Lord was now alive, for the men did not see him (Luke 24:24).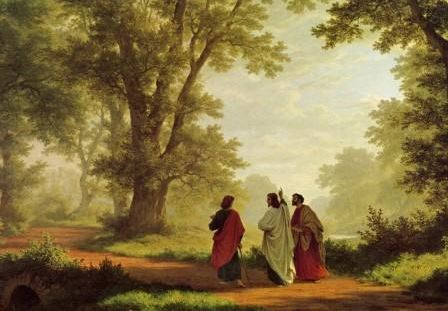 Jesus' soft rebuke was, "O fools, and slow of heart to believe all that the prophets have spoken: Ought not Christ to have suffered these
things, and to enter into his glory?" (Luke 24:25-26). Jesus then proceeded to explain the scriptural prophecies about the Christ, "beginning at Moses and all the prophets" (Luke 24:27). Finally the group made their way to Emmaus (Luke 24:28). Jesus, still unrecognized, indicated by his body language that he was meaning to keep moving onward beyond the town (Luke 24:28). But these good disciples, clearly impressed with this knowledgeable stranger who showed them so much from the scriptures, persisted in requesting him to stay and share a meal with them. It was by that time approaching evening on Sunday (Luke 24:29).
And so Jesus sat to eat with these men (Luke 24:30). In what may be reminiscent of the first sacrament meeting held on Sunday, Jesus "took bread, and blessed it, and brake, and gave to them" (Luke 24:30). As soon as this was done, the veil that was cast over their eyes was removed, and they recognized Jesus for who he was. However, as the grand realization suddenly flooded over them, Jesus miraculously "vanished out of their sight" (Luke 24:31). It all made sense now. "Did not our heart burn within us, while he talked with us by the way, and while he opened to us the scriptures?" they said (Luke 24:32). In other words, this stranger's words sunk deep into their hearts like fire with the power of the Holy Ghost. They wasted little time. They immediately returned to Jerusalem, found the eleven apostles and others, and related what they had experienced (Luke 24:33).
However, even after the report of the disciples who were on the road to Emmaus, the Bible records, "neither believed they them" (Mark 16:13). Still, after so many witnesses, it was just too incredible. The apostles watched Jesus die. They saw him buried. It would take more than the word of excited followers to convince them that their Lord had actually risen back to life.
It was later in the evening of the same day that this occurred (John 20:19). Ten of the disciples (John 20:24 – missing were Judas Iscariot and Thomas) and some others that were there with them (Luke 24:33) were hiding out in a closed room, lest they be found by the hostile Jewish hierarchy which had only a few days earlier killed their spiritual leader (John 20:19).
The Risen Lord Appears To the Ten Disciples and "Them That Were With Them" in the Upper Room
They had set down to eat dinner (Mark 16:14) when the Risen Christ appeared suddenly and miraculously in their midst (John 20:19). "Peace be unto you," was his greeting (Luke 24:36; John 20:19). The disciples exhibited fear, for they thought they were seeing a ghost (Luke 24:37)! Knowing this, Jesus allayed their fears by saying, "Why are ye troubled? and why do thoughts arise in your hearts? Behold my hands and my feet, that it is I myself: handle me, and see; for a spirit hath not flesh and bones, as ye see me have" (Luke 24:38-39). Jesus then permitted his disciples to touch the prints in his hands, feet, and side (Luke 24:40; John 20:20). He then "upbraided them with their unbelief and hardness of heart, because they believed not them which had seen him after he was risen" (Mark 16:14). Even still, the record confirms that the disciples "believed not for joy" (Luke 24:41). It was just too wonderful; they could hardly believe the situation. To further prove to them that he was indeed a living person, he asked them to give him some of the food they were eating, that he might eat with them in their presence (Luke 24:41-43).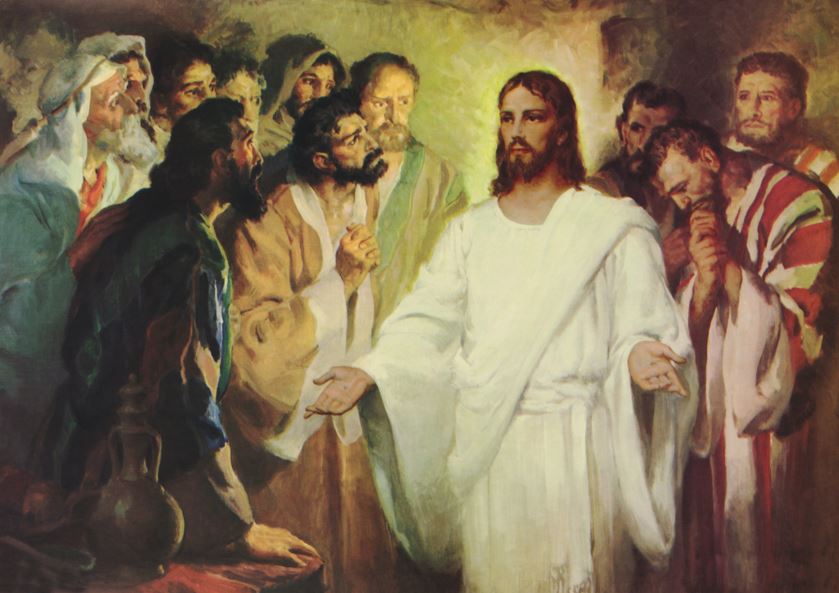 At this point, Jesus took occasion to give the disciples an apostolic charge. He said, "as my Father hath sent me, even so send I you" (John 20:21). He then administered to them the gift of the Holy Ghost, which they had not yet been formally given, fulfilling the prophecy of John the Baptist some three years earlier: "I indeed baptize you with water; but one mightier than I cometh, the latchet of whose shoes I am not worthy to unloose: he shall baptize you with the Holy Ghost and with fire" (Luke 3:16. See also Matt. 3:11). To accomplish this, the record says the Risen Lord "breathed on them, and saith unto them, Receive ye the Holy Ghost" (John 20:22). Of course, while the ordinance had been performed on this first Easter Sunday, the apostles did not actually receive the gift of the Holy Ghost in the actual operative sense until the Day of Pentecost fifty days later (Acts 2:1-4).
Jesus then reaffirmed their power in the priesthood and the keys which they had been given as apostles (Matt. 16:19), by saying, "Whose soever sins ye remit, they are remitted unto them; and whose soever sins ye retain, they are retained" (John 20:23). This is reminiscent of when Jesus promised to deliver to the apostles the keys of the priesthood, in which he said, "whatsoever thou shalt bind on earth shall be bound in heaven: and whatsoever thou shalt loose on earth shall be loosed in heaven" (Matt. 16:19).
Doubting Thomas
In an unfortunate turn of events, one of the apostles was missing from that sacred meeting in the upper room (John 20:24). This was Thomas, also called Didymus (John 11:16), both of which meant "twin" in Hebrew and Greek, respectively. The other disciples had borne their witness to Thomas, saying, "We have seen the Lord" (John 20:25). Thomas was resistant, however. He responded, "Except I shall see in his hands the print of the nails, and put my finger into the print of the nails, and thrust my hand into his side, I will not believe" (John 20:25).
To put Doubting Thomas' faith into perspective: his faith seems to have been on par with that of the other disciples, for, except for John (John 20:8), none of them believed either until they saw him. In fact, the other disciples had to have Jesus eat in their presence before they were fully reconciled to the reality of Jesus' resurrection (Luke 24:41). Thomas, on the other hand, as we shall see, upon seeing the Lord,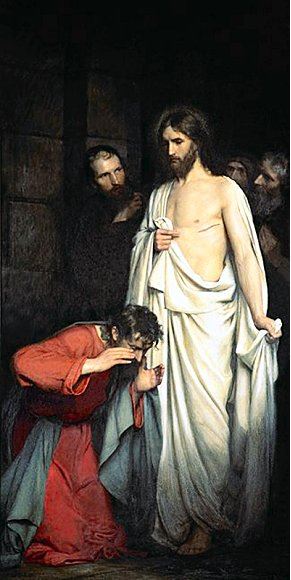 believed immediately (John 20:26-28). Of course, one would have thought that the emphatic testimony of his fellow apostles should have been strong convincing evidence to him.
Eight days after the original visitation in the upper room, which we are to understand was the next Sunday (see James E. Talmage, Jesus the Christ, p. 690), the apostles were again gathered together indoors. This time their ranks were a full eleven, for Thomas was now with them (John 20:26). Perhaps the ten disciples had been instructed by their Lord to thus assemble with Thomas so that he might share in their witness. Nevertheless, they were thus gathered. Jesus the Christ, as before, appeared suddenly and miraculously in their midst, for "the doors being shut" (John 20:26), then was no possible physical means by which to enter the room. The Master "stood in their midst" and offered the same salutation as before: "Peace be unto you" (John 20:26). Jesus turned to Thomas and said in his typical loving tone, "Reach hither thy finger, and behold my hands; and reach hither thy hand, and thrust it into my side: and be not faithless, but believing" (John 20:27).
At this powerful moment, Thomas the twin was overcome with emotion. He uttered, "My Lord and my God" (John 20:28), and with that acknowledged the reality of the Risen Savior. Then Jesus taught a great lesson on faith with the words, "Thomas, because thou hast seen me, thou hast believed: blessed are they that have not seen, and yet have believed" (John 20:29). What a significant lesson for the apostles to learn, for by the witness of their testimony alone, they were now charged with convincing the world of the reality of the Risen Lord.
The Risen Lord Appears to Over Five Hundred, Then To His Brother James
Later on at an undisclosed occasion, the Risen Christ appeared to "above five hundred brethren at once" (1 Cor. 15:6), meaning that he apparently showed himself openly to a portion of the little flock of believers that had managed to assemble together. "After that," we are told, "He was seen of James" (1 Cor. 15:7). The James here referred to is presumed to be James the Just, "the Lord's brother," who was also a son of Mary Jesus' mother. The reason his identity is thought to be such is because at the time Paul wrote his epistle to the Corinthians, James the son of Zebedee was long dead, and so the simple unelaborated "James" is thought to refer to the James that was then living, who was in fact a half-brother of the Lord Jesus Christ. Perhaps the Risen Lord's visit to his brother James was a powerful conversion experience for him, for we read that earlier in Christ's ministry "neither did his brethren believe in him" (John 7:5). James the Just would later become an apostle and a mentor to Paul (Gal. 1:18-19), as well as the author of the Epistle of James.
The Risen Lord Appears Unto the Seven in Galilee
After this experience, Jesus met his disciples in Galilee as planned on Easter morning (Matt. 28:7,10; Mark 16:7). There were seven of his disciples at the Sea of Tiberias (John 21:1), meaning the Sea of Galilee (John 6:1): Simon Peter, Thomas called Didymus, Nathanael of Cana, James and John the sons of Zebedee, and two other unnamed disciples (John 21: 2). As to the identity of Nathanael, he was clearly one of the apostles, and is considered to have been identical with Bartholomew, since the Synoptic Gospels (Matthew, Mark, and Luke) mention Bartholomew and not Nathanael, and John's Gospel mentions Nathanael and not Bartholomew (see LDS Bible Dictionary, 1979, p. 737). The scriptures record that "This is now the third time that Jesus shewed himself to his disciples, after that he was risen from the dead" (John 21:14), meaning of course, that this was his third group meeting with the apostles since his resurrection on Easter Sunday. It was on this occasion that Jesus implored Peter, the chief apostle, three times to "Feed my sheep" (John 21:15-17). Jesus then foreshadowed the death of Peter, which according to tradition was death by crucifixion upside down (John 21:18-19). This is also the occasion where Peter enquired about John, and Jesus replied that John was destined to become a translated being (John 21:20-23)
The Forty-Day Ministry
After these things, the Risen Lord spent forty days with his disciples, "speaking of the things pertaining to the kingdom of God" (Acts 1:3). There is only one verse in scripture which mentions this entire forty days. What sort of knowledge did the Risen Christ impart during those forty days to his closest associates? It was such a significant occurrence, with continual teaching conducted personally by the Risen Lord, yet there is virtual silence on the matter in the scriptures. No doubt this forty-day ministry was the time when Jesus revealed the "hidden mysteries" (D&C 76:7) or "those ordinances … which had been hid from before the world was" (D&C 124:38), meaning, of course, the temple rituals.
The Great Commission and Ascension into Heaven
At the conclusion of the forty-day ministry, the Risen Christ assembled his eleven apostles together at a mountain in Galilee (Matt. 28:16). He then gave the Great Commission: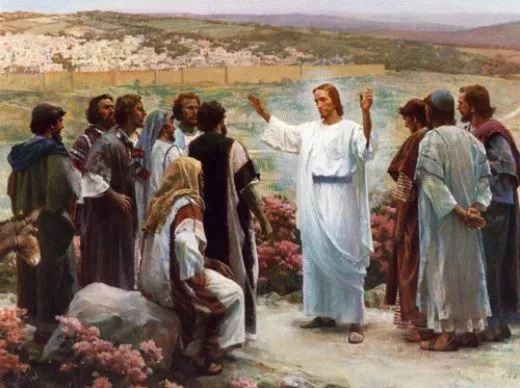 "Go ye therefore, and teach all nations, baptizing them in the name of the Father, and of the Son, and of the Holy Ghost: Teaching them to observe all things whatsoever I have commanded you: and, lo, I am with you alway, even unto the end of the world. Amen."

(Matthew 28:19-20).
"He that believeth and is baptized shall be saved; but he that believeth not shall be damned."

(Mark 16:16).
The Risen Lord then discoursed on how signs and miracles follow believers (Mark 16:17-18). And with this, he made his grand Ascension into heaven. The scriptures record that "he was received up into heaven, and sat on the right hand of God" (Mark 16:19).
Conclusion
And that, friends, is the Easter Story. What began in the Garden of Eden four thousand years earlier ended in a olive garden and finally a garden tomb. It is a true story, and it has eternal implications for each and every person who has ever lived, who does now live, and who yet shall live. It is the story of redemption; it is the story of profound divine love; it is the story of God's eternal plan of salvation.